The Michael J. Fox Foundation
The Michael J. Fox Foundation is dedicated to finding a cure for Parkinson's disease through an aggressively funded research agenda and to ensuring the development of improved therapies for those living with Parkinson's today.
Living and working with Parkinson's Disease
Parkinson's Disease (PD) Diagnosis Questions
What is PD and What causes it?
Parkinson's disease is a chronic, degenerative neurological disorder that affects one in 100 people over age 60. While the average age at onset is 60, some people are diagnosed at 40 or younger. There is no objective test, orbiomarker, for Parkinson's disease, so the rate of misdiagnosis can be relatively high, especially when the diagnosis is made by a non-specialist. Estimates of the number of people living with the disease therefore vary, but recent research indicates that at least one million people in the United States, and more than five million worldwide, have Parkinson's disease.
Today, we understand Parkinson's disease to be a disorder of the central nervous system that results from the loss of cells in various parts of the brain, including a region called the substantia nigra. The substantia nigra cells produce dopamine, a chemical messenger responsible for transmitting signals within the brain that allow for coordination of movement. Loss of dopamine causes neurons to fire without normal control, leaving patients less able to direct or control their movement. Parkinson's disease is one of several diseases categorized by clinicians as movement disorders.
The cardinal symptoms of Parkinson's disease are resting tremor, slowness of movement (bradykinesia) and rigidity. Many people also experience balance problems (postural instability). These symptoms, which often appear gradually and with increasing severity over time, are usually what first bring patients to a neurologist for help.
Unfortunately, because there is no definitive test for Parkinson's disease, and because Parkinson's disease symptoms are similar to those of other neurological conditions, the misdiagnosis rate remains significant. It is worthwhile to consider a second opinion, and to reach out to a neurologist with specific expertise in movement disorders.
A diagnosis of Parkinson's disease is life-changing. But breathe. You are not alone. Fellow patients on our Patient Council have identified the key questions that they dealt with during their diagnosis and in the days following.
Eating fruits and vegetables may help keep you energized and hydrated. Fiber-rich foods and fluids may ease symptoms of constipation or low blood pressure.
Your medication regimen may impact your diet, too. Adjusting the timing and composition of meals might allow medications to work better, and you may need to avoid specific foods to prevent side effects.
Advice for Loved Ones and Caregivers
Diagnosis of Parkinson's disease has a ripple effect, radiating from an individual to his or her family and friends. When hearing of a loved one's diagnosis, many questions may come to mind. How will this impact our relationship, our future — my life?
If you would like to contact the Michael J. Fox Foundation, please use the email form below, call toll-free at
1-800-708-7644, or contact us by regular mail at the following address:
The Michael J. Fox Foundation for Parkinson's Research
Grand Central Station
P.O. Box 4777
New York, NY 10163-4777
PLACES IN PENSACOLA THAT MAY BE ABLE TO HELP
Rock Steady Boxing - Pensacola
"Studies show throwing punches slows parkinson's disease progression".
The closest chapter (that I can find) is in Jacksonville. Their info is:
4500 San Pablo Road
Jacksonville, FL 32224
Zbigniew K. Wszolek, MD, Medical Director
Audrey J. Strongosky, Coordinator
Strongosky.audrey2@mayo.edu
904-953-6096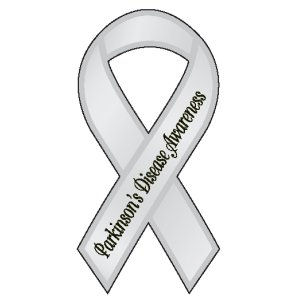 The silver awareness ribbon is the color for Parkinson's disease (also gray ribbon). The month of April is Parkinson's disease Awareness Month and April 11th is Parkinson Disease International Awareness Day.